Advance registration ended June 25, 2022

Buy your membership at the door:
$70 for all four days (single days $30)

All members must be vaccinated and boosted against COVID-19 and wear a N95/KN95/KF94 or surgical mask in convention-controlled spaces including the Convention Center and other program rooms in our hotels.
At-convention attendance is limited to 450 attending members (including Young Adult and Child members) due to the capacity of the Tonopah Convention Center.
Before purchasing a membership in Westercon 74, please read our list of membership types (most people should purchase an Attending membership) ,our data protection notice (which explains how we handle any data we collect from you), and our COVID-19 Health and Safety Policy and our Code of Conduct and other policies.
We use Grenadine for our online membership processing. Please read Grenadine's Privacy Policy before registering by clicking on the button below.
Click on the button below to start the registration process.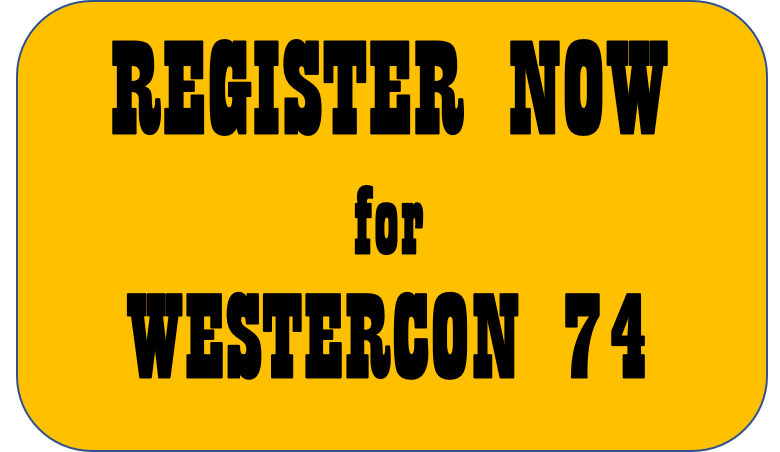 If you did not vote in Westercon 74 Site Selection, you can buy a new supporting or attending membership online through Grenadine or download and print our current registration form and mail it by postal mail with payment by check, money order, or credit card. What we call a "membership" is what Grenadine labels a "ticket." Westercon does not sell "tickets," as every person is a member of Westercon 74, but Grenadine's online registration system labels all types of admissions as "tickets."
If you voted in Westercon 74 Site Selection and did not convert your membership to attending before March 1, 2020, you have a supporting membership and can convert it to an attending membership at any time by paying the current attending membership rate minus the $20 paid to vote in the 2021 Site Selection.
Credit card payments through Grenadine (online registration) are processed by Stripe. If you have ever made a payment through Stripe, you may have opted to use Stripe's "remember me" function. If so, you will receive a text to verify the transaction (two-factor authentication). Should you wish for Stripe to "forget" you, see see this article from Stripe technical support. Neither Grenadine nor Westercon 74 stores your credit card information. All online credit card transactions go through Stripe.
If you join online, please make sure that you advise us whether you want to receive pre-convention publications by paper mail and whether you want to be excluded from our public listings (web site and print). By default, we will send progress reports to you electronically and we will list your name (badge name if specified differently) on our web site and in our publications.
Credit card payments made in person at our fan tables and at the convention itself are processed through Square. If you have previously made a payment through Square, you may have been asked for your e-mail address or phone number so that they could send you a receipt. If you use the same card, that information is used to send the new receipt. Should you wish to unsubscribe from Automatic Receipts, see this article from Square. Westercon 74 does not have this information unless you give it to us on your registration form, nor do we store your credit card information.
You can also join by downloading our current registration form and mailing it with payment by check, money order, or credit card information to:
WESTERCON 74, c/o LINDA DENEROFF
11300 1ST AVENUE NE, #313
SEATTLE WA 98125-6041
USA