If you are interested in ride-sharing to Tonopah, please fill out our Ground Transportation Survey.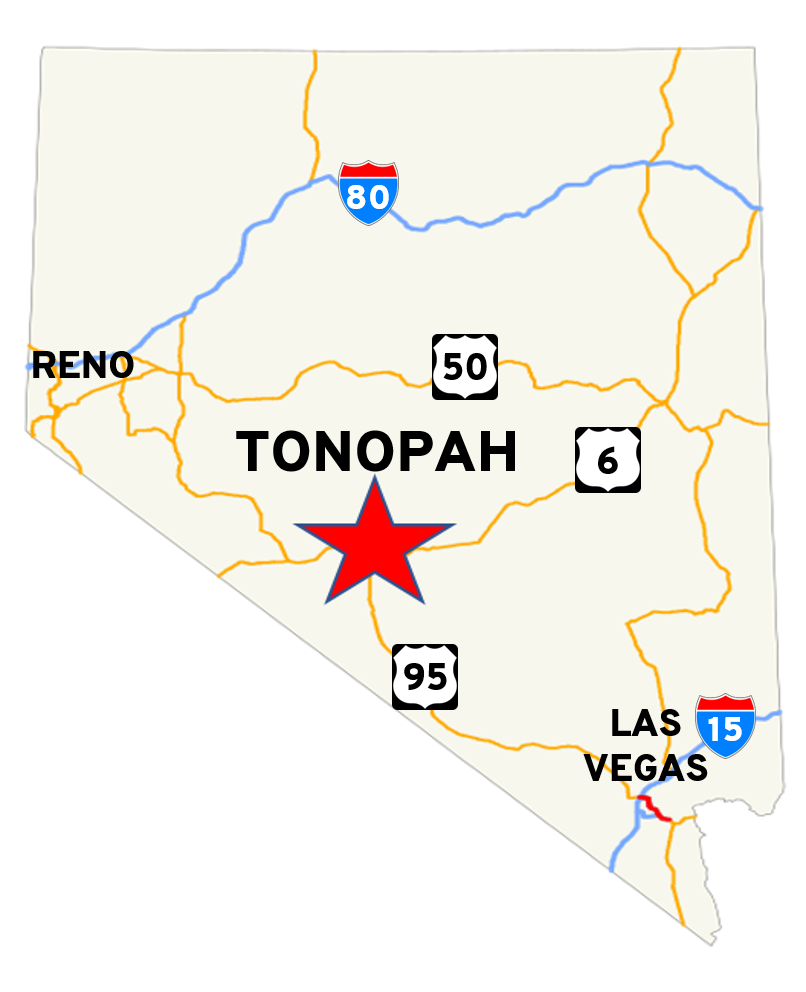 The primary access to Tonopah is by private vehicle via highways US-95 and US-6; however, there are interesting alternative routes and side trips along the way. Our Travel Coordinator will help groups wanting to rent vehicles and share rides from the air and rail gateways.
From Reno and points north: US-95 south via Fernley.
From the Bay Area and Sacramento: CA-120 east through Yosemite, Lee Vining (Mono Lake), and Benton Station, then US-6 east.
From Los Angeles and Southern California: US-395 north to Bishop, then US-6 east.
From Utah and points East: I-80 to US-95 south, or I-70/I-80 to I-15 to US-6 west.
From Las Vegas and points south: US-95 north, or take the alternative route via US-93 and the Extraterrestrial Highway and stop by the Little A'Le'Inn. (Convention not responsible for alien abductions or misadventures at Area 51.)
All vehicle parking is free.
Electrical vehicle charging stations are available (see this collection of photos of the Tesla and ChargePoint stations in Tonopah), as US-95 is part of Nevada's "Electric Highway" program. Other resources for EV drivers include
No parking structures; all parking is street-level; no clearance issues.
RV parking available: There are four RV parks in Tonopah, one on the grounds of the Tonopah Station Hotel.
The nearest commercial airports with substantial scheduled air service from multiple carriers are Reno (RNO) and Las Vegas (LAS), both approximately 220 miles from Tonopah.

Closer, but with far fewer flights, is Mammoth Yosemite Airport (MMH) in Mammoth Lakes, CA, approximately 125 miles from Tonopah. (Our thanks to Rick Moen for pointing this out to us.)
Private planes can fly to Tonopah Airport (the former Tonopah Army Air Field). If you are planning on flying a private plane to TPH, contact our Transportation Coordinator (address on our Committee & Staff/Contact Us page) to arrange for transportation from the airport to downtown Tonopah (approximately 7 miles / 11 km).

Nearest Amtrak station: Reno. You can connect to Salt Lake Express bus service (see below); however, the connection times are such that you probably will have to lay over at Reno both directions. There are many hotels within easy walking distance of the Reno Amtrak station.

Salt Lake Express https://saltlakeexpress.com/ operates daily bus service between Las Vegas, Tonopah, and Reno

Bus: Salt Lake Express offers one trip each direction per day between Las Vegas (McCarran Airport, Greyhound Station), the Tonopah Chevron (near the Quality Inn), and Reno (Reno Amtrak and bus stations, Reno Airport). Buses arrive at Tonopah around 6:45 PM daily from both Reno and Las Vegas.
Horseback: The municipal corral quotes a $5/head/day corral fee (you have to supply the horse).
Members are, of course, responsible for arranging for their own transportation, and we advise all persons purchasing transportation (air, rail, bus, etc.) to read all terms and conditions associated with the carrier.