Westercon 74 membership rates increase to $70 on May 1, 2022.
Please read our COVID-19 Health and Safety Policy and our Code of Conduct and other policies before registering for Westercon 74. All members must be vaccinated and boosted against COVID-19 and wear a N95/KN95/KF94 or surgical mask in convention-controlled spaces including the Convention Center and other program rooms in our hotels.
We use Grenadine for our online membership processing. Please read Grenadine's Privacy Policy before registering by clicking on the button below.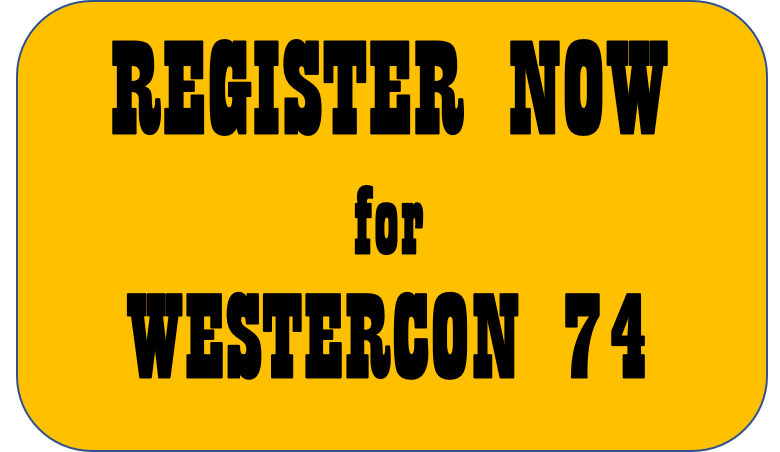 Latest News:
Hotel booking is now open. See our Hotel page for an interactive map of Tonopah and the list of Tonopah's hotels, including the promotional booking codes for the Belvada, Mizpah, and Old Brewery Hostel. Note that when using the promotional booking code online, you must put the code in the website's promo code field before searching for availability; otherwise, the site will say there are no available rooms because every room in those three properties has been blocked for our members. You can also call the hotels directly, and you may get better results that way. If you have problems booking a room, write to our Facilities liaison. See our Contact Us page to contact us.
Our Guests of Honor are Kevin Andrew Murphy and Myrna Donato. We will have additional program participants on our convention program that we will announce at a later date.
Westercon 74 is still scheduled to be held in person Friday, July 1, through Monday, July 4, 2022. The convention does plan to have a single "hybrid" track where one function room will be equipped to allow both members attending in person and those participating remotely (including supporting members) to participate simultaneously.
---
Tonopah, Nevada will host Westercon 74, the 2022 West Coast Science Fantasy Conference, in Tonopah, Nevada, Friday, July 1 through Monday, July 4, 2022. The convention will start on the morning of Friday, July 1, and will officially end on the late afternoon of Monday, July 4 (but don't miss the Dead Alien Party later than night until midnight).
Westercon 74 Progress Reports 0, 1, 2, 3, and 4 are available for download from our Publications page.
If you did not vote in Westercon 74 Site Selection, you can buy a new supporting or attending membership through Westercon 74's registration page. Please note that Grenadine's system uses the word "ticket" to refer to what we call a "membership," and that credit card payments through Grenadine will be processed by Stripe. Credit card payments made in person at our fan table or via postal mail are processed through Square.
You can also join by downloading our current registration form and mailing it with payment by check, money order, or credit card to:
Westercon 74 Registration
c/o Linda Deneroff
11300 1st Avenue NE #313
Seattle WA 98125-6041
Thank you everyone who voted for us and supported us!